Tamsin O'Neill and Tom Bodycomb established the independent publisher Green Press in 2007 having identified a gap in the market for a title showcasing sustainable and environmentally friendly housing options. Thus, green magazine was born.
With Tamsin as the editor and Tom as the publisher, the magazine has grown from a quarterly to a bi-monthly publication, achieving a 130,000+ readership.
Following the success of green magazine, Tamsin and Tom launched Treadlie in 2010, a magazine devoted to bicycle and design culture.
Green Press has also been involved in co-hosting and sponsoring special events, such as a series of Green Talks, curating exhibitions as part of the Denfair in Melbourne and designEX, and the establishment of the Treadlie Bike Hub as part of the Sustainable Living Festival.
After studying Fine Art at RMIT in the early 1980s, Tamsin has worked with some of Melbourne's best architectural photographers before working as a freelance photographer for 10 years, contributing to a variety of architecture and home living magazines.
Coupled with her background in architecture, Tamsin's love for the environment comes as second nature, especially having grown up in a family of architects with a strong sense of resourcefulness.
Tom's role as publisher came naturally, given his experience in the multimedia and publishing sector. Prior to that, he graduated with a Bachelor of Engineering (Chemistry) from Melbourne University in the 1980s and worked for multinational firms across Australia and Europe for over a decade.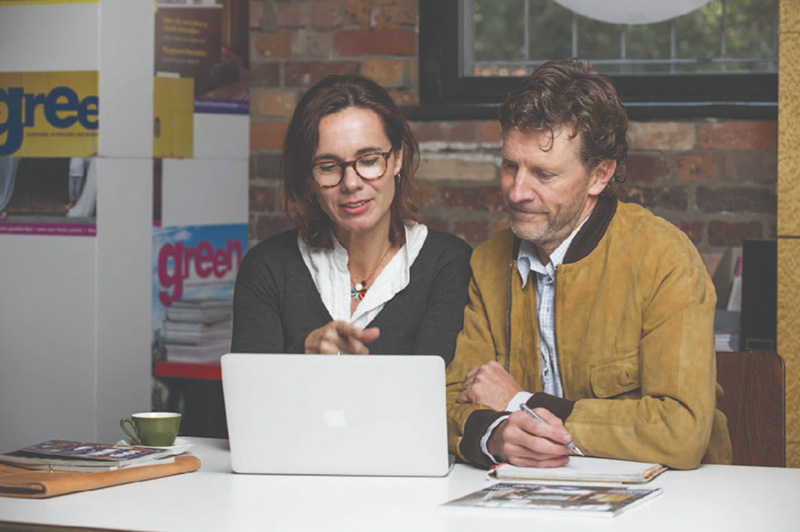 Graphic Design
Layout of publication
Advertisements
Brand Creation
Art direction
Editorial
Content creation
Proofing
Editing
Advertising Sales
Client liaison 
Payment management
Print Management
Magazines
Pamphlets 
Brochures 
Inserts